All packages from Allsmartlife.com are sent without Allsmartlife or any information indicating Allsmartlife.com. Due to package variations from suppliers, the product packaging customers receive may be different from the images displayed.
To enable volume discounts on this site, use coupon code: Please enter the number in Quantity you want , all discount rate will be created automatically.
What is Bulk Rate? BulkRate is a semi-wholesale system with items priced separately from retail. When you use bulk rates, most of country are free shipping and will automatically be added to your cart to ensure delivery of package. While BulkRate intention is to offer cheaper prices when you buy in bulk, you will get a discount automatically base on the quantity you purchased. If you are looking for wholesale prices please feel free to contact us. Any requirements of custom made Please contact us.
Product Description
The 1x8 HDMI Splitter allows one HDMI device to be split easily to eight HDMI compatible monitors or projectors. It can be placed at the end of a long HDMI cable to regenerate the HDMI signal. The resolution of this hdmi splitter can be up to 3840X2160/30Hz.
In addition, the splitter can strip audio signal from HDMI signal, output via optical fiber, coaxial, and 3.5 mm headphone. users can enjoy the shock audio effects without connecting amplifier.
FEATURES
*Support HDMI 1.4b version
*Support 3D video format
*Support high resolution up to 3840X2160/30Hz
*Support highest rate of 3.2 G and TMDS clock can be up to 320 MHz
*Support 8/10/12 bit deep color
*Support 2.1 channel audio signal amplifier, power is up to 30W
*Support heavy bass output
*Support 2.1 channel audio 3.5mm headphone output
*Support 5.1 channel audio optical fiber and coaxial output
*Support AWG26 HDMI standard cable:
when the resolution is 1080p and below, input up to 15 meters, output up to 25 meters.
when the resolution is 4K, input up to 10 meters, output up to 12 meters.
*Support one single HDMI source, accessing to multiple HDMI sinks, the source can be DVD player, A/V receiver, set top box and ect.
*12V/5A power adapter
Product interface pictures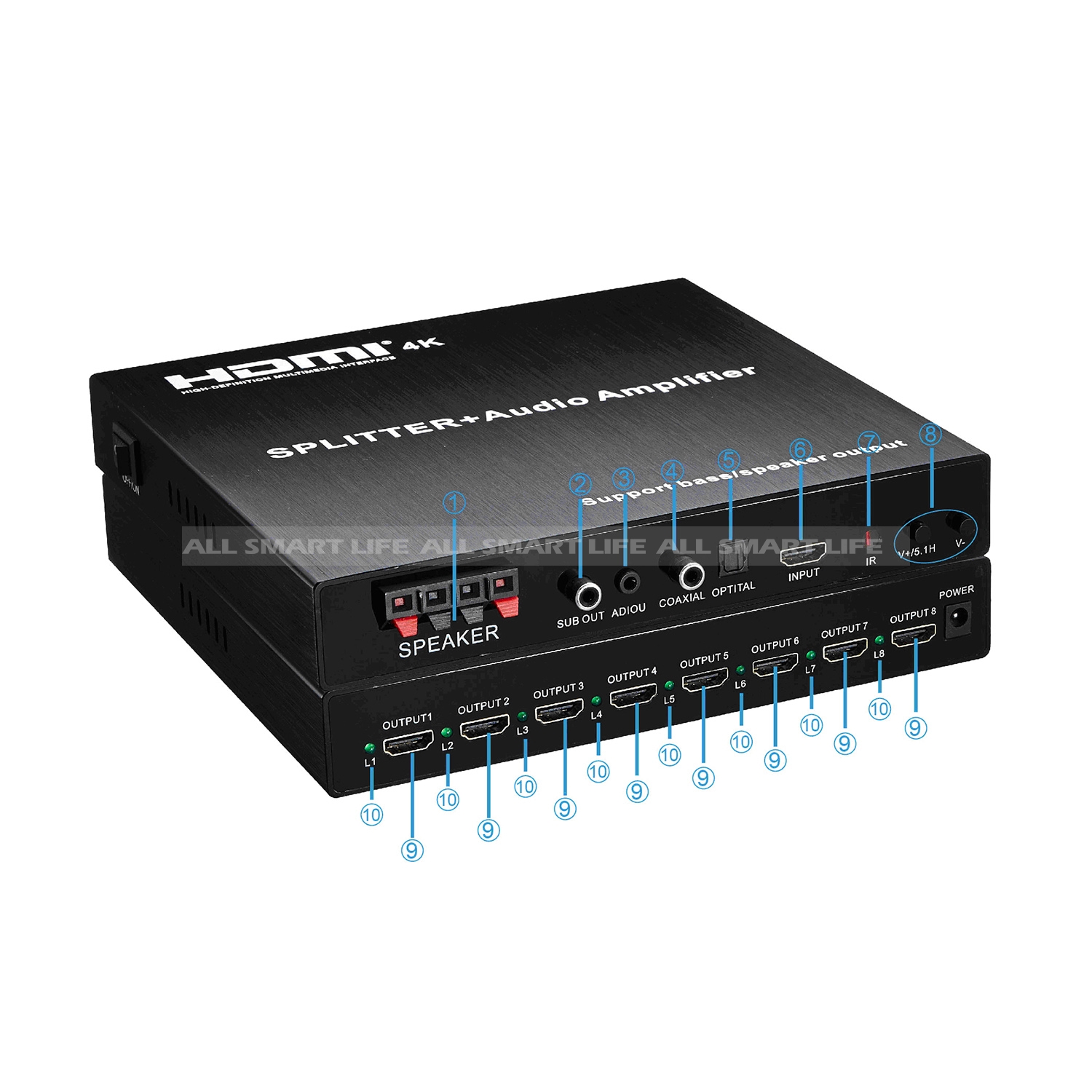 ①: SPEAKER: The loudspeaker output
②: SUB OUT: Heavy bass output
③: AUDIO: The stereo output
④: COAXIAL: Coaxial output
⑤: OPTITAL: Optical output
⑥: INPUT: HDMI signal input
⑦: IR: The infrared receiver
⑧: Operation button
⑨: OUTPUT1-OUTPUT8: HDMI signal outputs
⑩: L1-L8: The HDMI output indicators